About the Munger Physics Residence
The Charles T. Munger Physics Residence is designed as a premier living and casual collaborative environment for the KITP. Located 1.2 miles west of Kohn Hall at
6560 El Colegio Road, Goleta, CA 93117
, it's easily accessible by foot in 25 minutes, or by bike or bus in less than 10 minutes. Ample indoor bike parking at both the Residence and Kohn Hall and convenient access to a bike path facilitates this mode of travel. At least one
ZipCar
will be located on-site, while overnight parking is a ten-minute walk from the Residence. The Munger Residence achieved LEED Platinum.
This facility, which has been fully funded for construction and furnishings by Charles T. Munger, houses up to 61 KITP participants in a comfortable and intimate setting that promotes informal discussions and extends the collaborative interactions that are the hallmark of KITP's mission. KITP visitors not staying at the Residence will have access to the common areas, as will KITP postdocs, graduate fellows, and scientific staff.
With tall ceilings, thick walls, and generous proportions, all spaces within the Residence are designed for the activities that will occur; whether it be late-night science at the blackboard, barbecuing and dining together for program events, or playing with your children in the west yard or children's play room. These common areas also include music practice rooms with three pianos, a number of open lounges, a Snooker room, and ping-pong tables. Wireless access is available throughout the facility, including the exterior.
Housing at the residence consists of one-, two-, and seven-bedroom apartments, all with king-sized beds, private baths, guest baths, and fully furnished living and dining rooms. All have full kitchens equipped with stainless steel appliances, coffee maker, dishwasher, and granite countertops. All necessary cookware, dishes, and silverware are included. A washer and dryer are available in each seven-bedroom suite, while other apartments share a large laundry room in the basement. There is also a fully equipped fitness center in the basement.
One-bedroom apartments are excellent for a single long-term visitor, a couple, or a couple with an infant in a crib. These have a private bedroom, two large work desks, a furnished living/dining room, a kitchen, and one bath.
Two-bedroom apartments are optimized for families, with each bedroom having a private bath, plus an extra half bath for guests. Some two-bedroom apartments also have an extra study that could accommodate a short-term family guest or serve as a place for children to do their homework. Each bedroom has a large work desk. A full kitchen is adjacent to the living/dining room space.
Seven-bedroom suites have seven private bedrooms, each with a private bath and a large work desk in the bedroom. These all share a very large living/dining room area (including a blackboard) and a double-sized kitchen with two stoves and two refrigerators. There is also a small meeting room adjacent to the kitchen with an additional blackboard and a large working table. Laundry is available within the suite, and a guest bathroom is available for visitors to the suite.
Each visitor will receive a welcome basket to ease the first day of arrival. Groceries are available at the nearby Isla Vista Food Co-op grocery store, while Costco, Albertson's grocery store, restaurants, and other big box stores are a short bus ride away via MTD line 28, with a stop just outside the Residence. The beach is a 15-minute walk, and the Residence has space in the bike room for storage of wetsuits and other beach materials. The frequent MTD express bus 24X also allows you to reach downtown Santa Barbara in less than 25 minutes.
The Munger Physics Residence houses the majority of KITP's visitors in a single nearby location. The land was contributed by UC Santa Barbara in Summer 2011 and the building was funded by Charles T. Munger in October 2014.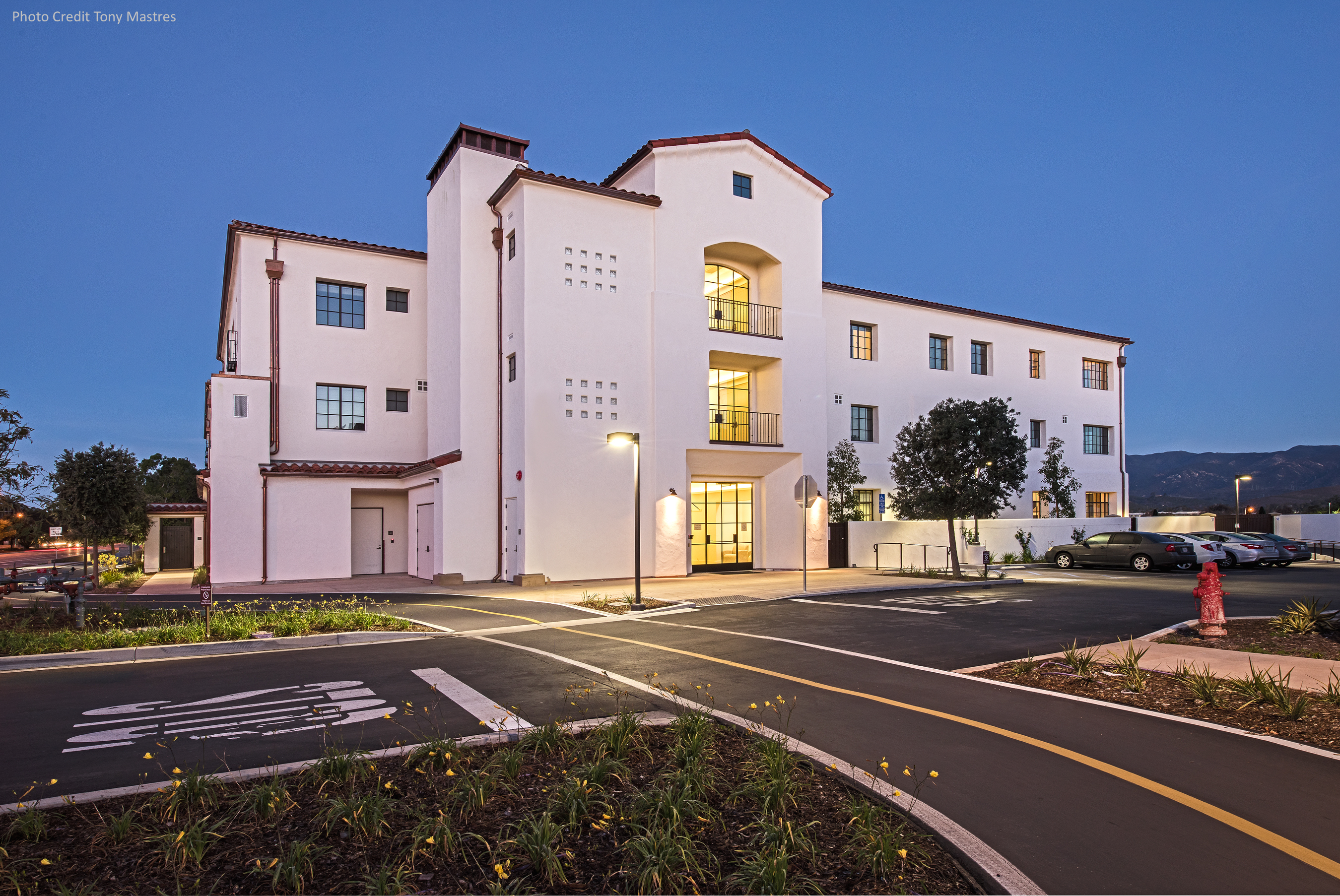 A photo of the East entrance to the Charles T. Munger Physics Residence, a three story, 75,000 square foot facility that houses KITP visitors. Common space inside and outside allows for continued scientific interactions for the nearly thousand scientists who come to the KITP every year for programs in all of theoretical physics.
6560 El Colegio Road, Goleta, CA 93117
The Munger Residence: Location and Summary of Features
Lars Bildsten, Director
October 24, 2014
Photo Credit: Patrick Price
The Munger Residence has been designed according to LEED specifications.
Highlights of LEED-specified design in the Residence:
No carpet shall be installed within three feet of any exterior entry, bathroom, or kitchen. Use water resistant flooring (no carpet) in kitchen, bathroom, laundry room.
CO Sensors in each unit.
Low-flow-plumbing toilets with 1.3 gallons per flush or less, lavatory faucets with 1.5 gallons per minute or less, and shower heads with 1.75 gallons per minute or less.
All lighting fixtures are LED; 90% of lamps are ENERGY STAR.
ENERGY STAR appliances in units: ENERGY STAR refrigerator, ENERGY STAR dishwasher wtih 6.0 gallons per cycle or less, ENERGY STAR clothes washer, ENERGY STAR bathroom fan of at least 110 cfm.
Environmentally responsible paint and materials: Low VOC Paint, Low VOC and 25% post-consumer recycled insulation, Low VOC adhesive/sealant.
Cement/aggregate specification showing locally manufactured (within 500 miles).
Environmentally responsible landscaping: no invasive plants, 90% of plants are drought tolerant.
Drainage from the property is filtered and runs back to Phelps Creek.
Laundry ventilation to the exterior.
Used radon resistant construction techniques.
Highly energy efficient with state of the art mechanical equipment.
Ducts covered during construction for indoor air quality.
Efficient waste diversion management during construction.
KITP Residence LEED Specifications