Information for your stay at the Munger Physics Residence
Welcome to your stay at the Munger Residence, please review the Resident Handbook, as well as the Arrival and Living information below.
---
Arriving at Munger Residence
The Munger Residence address is 6560 El Colegio Road, Goleta, CA 93117, just east of Los Carneros Road. This is not a mailing address. KITP will be billed directly for your housing. Google Maps will show the location as "KITP Residence".
Please review our Transportation page to view more information.
From Los Angeles International Airport:
We recommend the Santa Barbara Airbus, particularly if you must return to LAX for your departing flight. The Airbus is reliable, and offers a reasonable round-trip fare. The nearest Airbus drop-off point to the Residence is the Goleta terminal at 750 Technology Drive; so once you arrive, you'll need to call a taxi or ride service to the Residence.
If you plan on arriving after 10:00 PM (Pacific Standard Time), you will be given a one-time-only entry code to the building. This will expire after it is used. You must request the code in advance of your arrival in order to access the building after the front desk has closed.
When you arrive to the Residence, please be dropped off at 6560 El Colegio Road, Goleta, CA 93117. There is limited short term parking for loading and unloading only. If you bring a car, you may park in Lot 30 with a purchased permit.
Parking
If you arrive on a weekend, we would suggest buying a pass from the machine in front of the Residence building. One can buy a pass for up to 7 days to park in front of the Residence.
For longer term parking, the lot for the building is Lot 30, which is a few blocks from the Residence. To buy a permit to park in Lot 30, go into the Parking Office (also in Lot 30) and buy a staff pass as a visitor to KITP. You must buy a permit to park on campus. Please visit the campus parking website for more information: http://www.tps.ucsb.edu/parking-permits.
With this pass you can park in Lot 30, and Lot 10, which is next to Kohn Hall. 
Check-in and Keys
We are staffed from:
8:00 AM to 8:00 PM on Monday through Friday
12:00 PM to 10:00 PM on weekends.
Once you enter, please check in with staff at the desk, or if arriving late, please find the envelope on the front desk with your name on it to receive your key.
If you plan on arriving after 10:00 PM, use the given one-time-only entry code to enter the building. This will expire after it is used. 
---
We have designed the residence to be your home for your stay. All apartments are fully furnished, including dishes, cookware, and linens. All beds are king-sized. Cribs and high chairs are also available. The residence is located just off campus, about 1.5 miles away. Indoor bike parking is also available. No bikes are allowed in the building.
Date Change
Please be aware that if your arrival or departure date is changed shortly before, or during, your visit, we may not be able to house you. Changes made less than one month before arrival can result in housing being unavailable for your visit
What to bring with you
Your apartment is fully furnished, including all kitchen items. We only ask that you provide your own food and consumable products, such as personal and laundry soaps and paper goods. Your unit will have a starting supply of shampoo, personal soap, toilet paper and paper towels, as well as a small bit of food to get you through your first night!
Your apartment is your home. We will provide you with all cleaning products to keep your own space clean (no cleaning or laundry service is offered). We respect your privacy and will not enter your unit unless called for by repairs or maintenance.
Laundry
Laundry machines are available for free in the Basement. We ask that you provide your own soaps and detergents. For those staying in the seven bedrooms, the laundry is in your unit.
Water
There are reverse osmosis faucets and ice machines in the Prep Kitchen, First Floor Lounge, and Basement Lounge.
Bike Storage
All bikes must be stored in the Bike Storage room, as should surfboards or other items from the beach. The shower in that space is to help you remove additional sand, and we also have 'tar-off' available should you find tar on your feet from the beach. Santa Barbara has a number of natural tar seeps. We make these efforts to keep the Residence in excellent condition, as both tar and bikes in the building lead to substantial damage.
Children
Our first priority is to provide a comfortable environment for visitors and their families. We have a children's play area designed for children aged 10 and below. We also have music rooms, foosball, and table tennis areas as well. Be aware that children are not to be within common spaces of the building in an unsupervised manner. We provide the common spaces for all of our visitors, and unsupervised children place a burden on both the visitors and our staff who feel obliged to then either correct behavior or be concerned about safety of the 
unsupervised child.
Pets
The Munger Residence and all KITP housing does not allow pets. If you plan to bring a pet, you will need to find your own housing.
Smoking
Smoking is not permitted in the KITP Residence, in any units, common areas, or grounds, or outside of the complex. UCSB is s smoke free campus. Failure to comply will result in dismissal from the Residence.
Mail
You will not be able to receive mail at your residence address. Mail sent to your unit will be returned to the sender. You will have a mail box at Kohn Hall, which can also receive packages for you.
Please use this address:
Your Name

KAVLI INSTITUTE FOR THEORETICAL PHYSICS

KOHN HALL

UNIVERSITY OF CALIFORNIA

SANTA BARBARA CA 93106-4030
Events
For events in the area: http://www.harley.com/santa-barbara/
---
About the Munger Physics Residence
The Charles T. Munger Physics Residence is designed as a premier living and casual collaborative environment for the KITP. Located 1.2 miles west of Kohn Hall at
6560 El Colegio Road, Goleta, CA 93117
, it's easily accessible by foot in 25 minutes, or by bike or bus in less than 10 minutes. Ample indoor bike parking at both the Residence and Kohn Hall and convenient access to a bike path facilitates this mode of travel. At least one
ZipCar
will be located on-site, while overnight parking is a ten-minute walk from the Residence. The Munger Residence achieved LEED Platinum.
This facility, which has been fully funded for construction and furnishings by Charles T. Munger, houses up to 61 KITP participants in a comfortable and intimate setting that promotes informal discussions and extends the collaborative interactions that are the hallmark of KITP's mission. KITP visitors not staying at the Residence will have access to the common areas, as will KITP postdocs, graduate fellows, and scientific staff.
With tall ceilings, thick walls, and generous proportions, all spaces within the Residence are designed for the activities that will occur; whether it be late-night science at the blackboard, barbecuing and dining together for program events, or playing with your children in the west yard or children's play room. These common areas also include music practice rooms with three pianos, a number of open lounges, a Snooker room, and ping-pong tables. Wireless access is available throughout the facility, including the exterior.
Housing at the residence consists of one-, two-, and seven-bedroom apartments, all with king-sized beds, private baths, guest baths, and fully furnished living and dining rooms. All have full kitchens equipped with stainless steel appliances, coffee maker, dishwasher, and granite countertops. All necessary cookware, dishes, and silverware are included. A washer and dryer are available in each seven-bedroom suite, while other apartments share a large laundry room in the basement. There is also a fully equipped fitness center in the basement.
One-bedroom apartments are excellent for a single long-term visitor, a couple, or a couple with an infant in a crib. These have a private bedroom, two large work desks, a furnished living/dining room, a kitchen, and one bath.
Two-bedroom apartments are optimized for families, with each bedroom having a private bath, plus an extra half bath for guests. Some two-bedroom apartments also have an extra study that could accommodate a short-term family guest or serve as a place for children to do their homework. Each bedroom has a large work desk. A full kitchen is adjacent to the living/dining room space.
Seven-bedroom suites have seven private bedrooms, each with a private bath and a large work desk in the bedroom. These all share a very large living/dining room area (including a blackboard) and a double-sized kitchen with two stoves and two refrigerators. There is also a small meeting room adjacent to the kitchen with an additional blackboard and a large working table. Laundry is available within the suite, and a guest bathroom is available for visitors to the suite.
Each visitor will receive a welcome basket to ease the first day of arrival. Groceries are available at the nearby Isla Vista Food Co-op grocery store, while Costco, Albertson's grocery store, restaurants, and other big box stores are a short bus ride away via MTD line 28, with a stop just outside the Residence. The beach is a 15-minute walk, and the Residence has space in the bike room for storage of wetsuits and other beach materials. The frequent MTD express bus 24X also allows you to reach downtown Santa Barbara in less than 25 minutes.
The Munger Physics Residence houses the majority of KITP's visitors in a single nearby location. The land was contributed by UC Santa Barbara in Summer 2011 and the building was funded by Charles T. Munger in October 2014.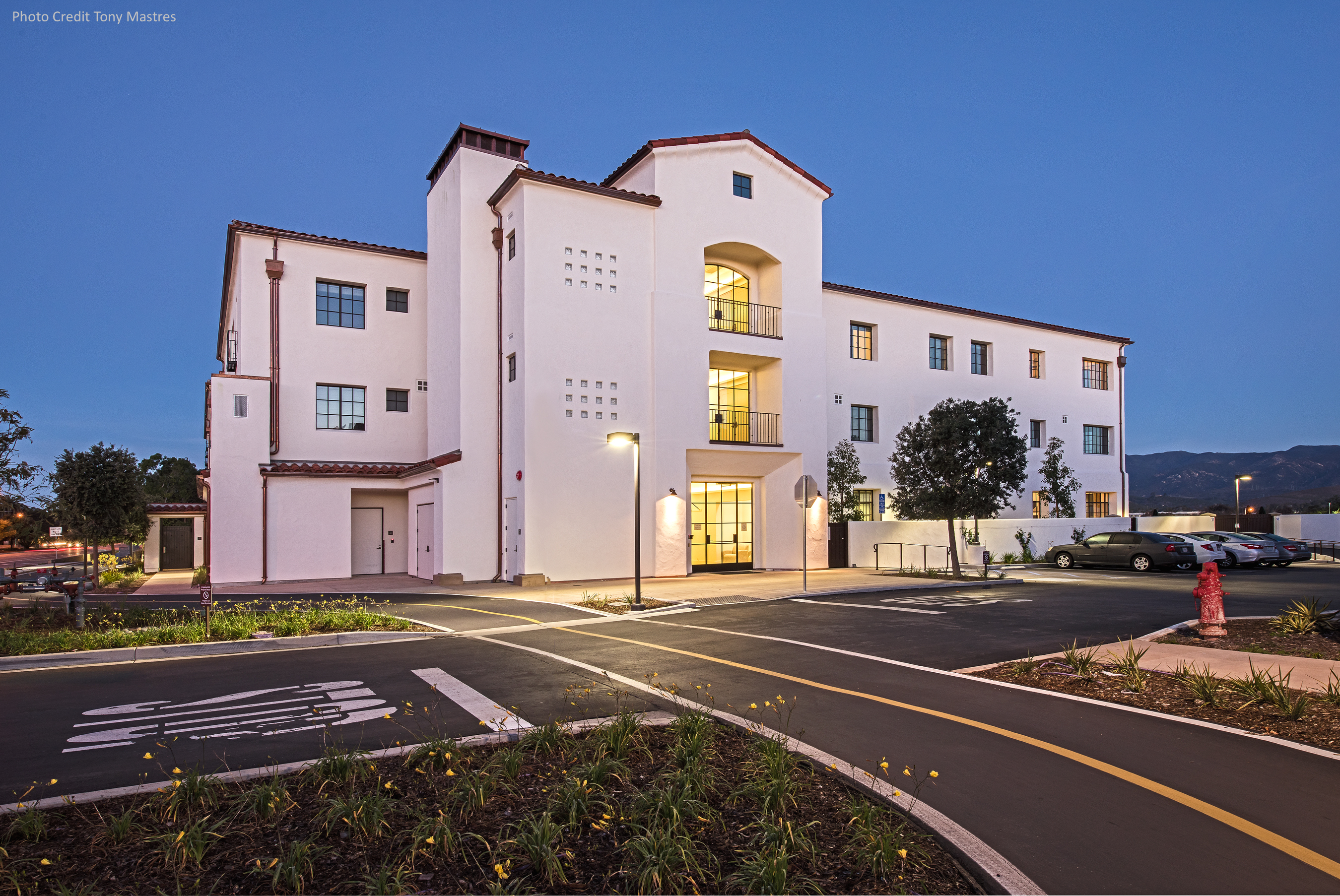 A photo of the East entrance to the Charles T. Munger Physics Residence, a three story, 75,000 square foot facility that houses KITP visitors. Common space inside and outside allows for continued scientific interactions for the nearly thousand scientists who come to the KITP every year for programs in all of theoretical physics.
6560 El Colegio Road, Goleta, CA 93117
The Munger Residence: Location and Summary of Features
Lars Bildsten, Director
October 24, 2014
Photo Credit: Patrick Price
The Munger Residence has been designed according to LEED specifications.
Highlights of LEED-specified design in the Residence:
No carpet shall be installed within three feet of any exterior entry, bathroom, or kitchen. Use water resistant flooring (no carpet) in kitchen, bathroom, laundry room.
CO Sensors in each unit.
Low-flow-plumbing toilets with 1.3 gallons per flush or less, lavatory faucets with 1.5 gallons per minute or less, and shower heads with 1.75 gallons per minute or less.
All lighting fixtures are LED; 90% of lamps are ENERGY STAR.
ENERGY STAR appliances in units: ENERGY STAR refrigerator, ENERGY STAR dishwasher wtih 6.0 gallons per cycle or less, ENERGY STAR clothes washer, ENERGY STAR bathroom fan of at least 110 cfm.
Environmentally responsible paint and materials: Low VOC Paint, Low VOC and 25% post-consumer recycled insulation, Low VOC adhesive/sealant.
Cement/aggregate specification showing locally manufactured (within 500 miles).
Environmentally responsible landscaping: no invasive plants, 90% of plants are drought tolerant.
Drainage from the property is filtered and runs back to Phelps Creek.
Laundry ventilation to the exterior.
Used radon resistant construction techniques.
Highly energy efficient with state of the art mechanical equipment.
Ducts covered during construction for indoor air quality.
Efficient waste diversion management during construction.
KITP Residence LEED Specifications