Launched in 2020 in partnership with the The National Society of Black Physicists (NSBP), the Innovate Seminar Series is a forum for NSBP members to share their research ideas and projects in a non-specialist way with a wide audience. The 30-minute talk (followed by 15 minutes of Q&A) will be a Zoom Webinar, and recorded. It will be available to the whole world soon after the event at KITP Online. Talks are also posted on the NSBP website https://nsbp.org/blogpost/1882533/Innovate-Seminar-Series
---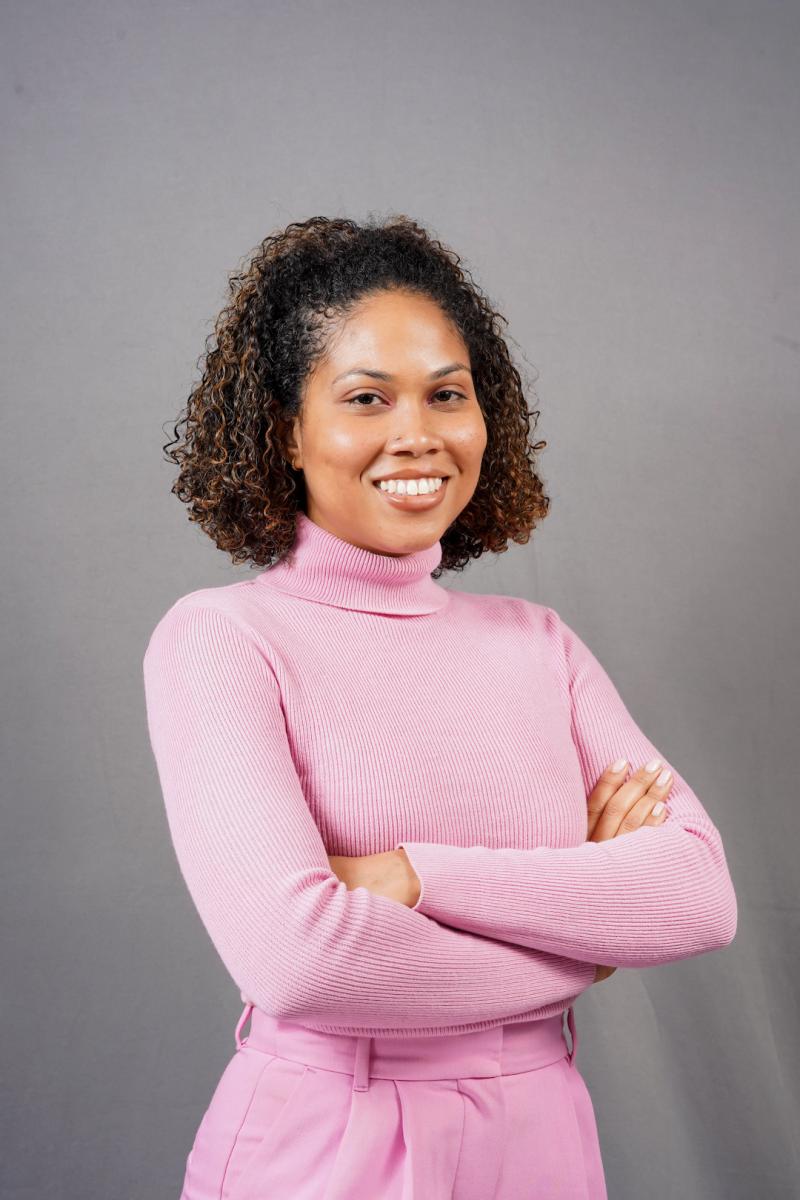 Farrah Simpson
Brown University
Search for the Vector-Like Quark, X5/3, at the Large Hadron Collider
Abstract: The discovery of the Higgs boson by both the CMS and ATLAS experiments marked a historic moment for the Large Hadron Collider because it confirmed the predictions of the Standard Model of particle physics. Since then, large efforts have been made to understand the properties of the Higgs boson. However, there are still many unanswered questions in the current theoretical framework of the Standard Model, such as the hierarchy problem. Several Beyond Standard Model theories that attempt to address these questions predict the existence of vector-like quarks. In this talk, I will present the search for a vector-like quark, the X5/3. It is a strongly interacting fermionic partner of the top quark with an exotic charge +5/3. The search is conducted using CMS Run 2 datasets for events with the pair production of an X5/3 and its antiparticle which subsequently decay to a top quark and a W boson. The search is also conducted for a new decay chain where the X5/3 is allowed to decay to BSM particles. To enhance signal-to-background separation, the search is constructed for events with only one lepton in the final state to achieve unprecedented sensitivities.
About the Speaker
Farrah Simpson is a rising sixth year physics PhD candidate at Brown University. She conducts research in high energy experimental physics with the Compact Muon Solenoid (CMS) Collaboration at the Large Hadron Collider (LHC). Her research focuses on Beyond Standard Model physics searches for Vector-Like Quarks. She also performs methods of sensor quality control for the detector upgrades for the High Luminosity LHC. Farrah hails from the island of Jamaica and completed her undergraduate degree in Applied Physics at Columbia University. She is passionate about teaching, mentoring and advocating for historically underrepresented groups in STEM. She serves as a DEI committee member for CMS and the immediate Past Student Representative on the Executive Board of the National Society of Black Physicists. She spent the past year at Fermilab as an LHC Physics Center Graduate Scholar.
---
Tuesday, August 29, 2023 at 4:00 PM ET

Register [Closed]
---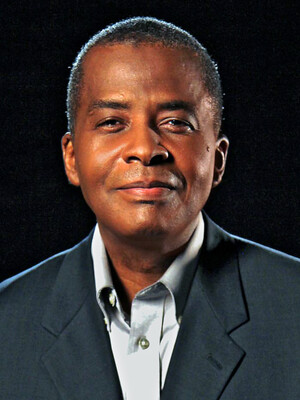 Keith Baker
D. Allan Bromley Professor of Physics at Yale University
Quantum Entanglement in Higgs Boson Decays to Vector Bosons
Abstract: A presentation will be given on Monte Carlo results and spectra of (1) quantum entanglement, (2) Bell's Inequality violation, and (3) entanglement entropy in Higgs boson decays ttot ZZ* bosons at LHC energies.
About the Speaker
Professor Keith Baker concentrates on experimental particle physics, including research at the energy frontier being conducted by the ATLAS collaboration at the Large Hadron Collider (LHC), the world's largest and most powerful particle accelerator, in Geneva, Switzerland, and precision studies at sub-eV energies. He helped build the detectors and was part of the team that carried out the machine learning analysis in the discovery of the Higgs boson, the last elementary particle predicted in what is known as the Standard Model of particle physics.
His current research topics include quantum information science in high energy physics, electroweak symmetry breaking, and experiments that test the boundaries of the standard model of physics.
Baker has received numerous awards and honors, including the Edward Bouchet Award from the American Physical Society, in 2002, for "his contribution to nuclear and particle physics; for building the infrastructure to do these measurements; and for being active in outreach activities, both locally and nationally." He was also the recipient of the Elmer Imes Award for Outstanding Research by the National Society of Black Physicists and the National Conference of Black Physics Students. He has also received the E. L. Hamm Sr. Distinguished Teaching Award and the National Award for Teaching Learning and Technology. In 2017, he was honored as a U.S. ATLAS Distinguished Researcher.
He is a graduate of Massachusetts Institute of Technology, where he earned a B.S. in physics, and Stanford University, where he earned an M.S. in both physics and mathematics, in 1983, and then his Ph.D., in physics, in 1987. In 1989, he was appointed staff scientist at the Thomas Jefferson National Accelerator Facility in Virginia and associate professor at Hampton University. Since 2006 he has been a professor of physics at Yale. He is also former director of the Yale Wright Laboratory.
---
Thursday, June 29, 2023 at 4:00 PM ET

Register [Closed]
---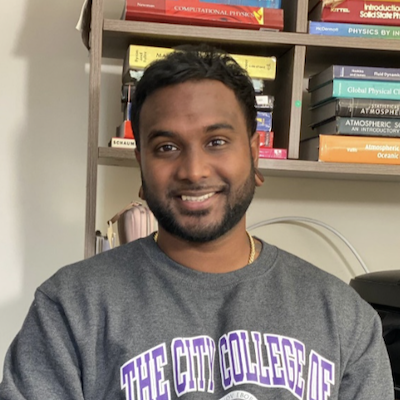 Veeshan "Vee" Narinesingh
Postdoctoral Researcher at Princeton University / NOAA Geophysical Fluid Dynamics Laboratory
A Physicist's Guide to Weather and Climate Science
Abstract: Thermodynamic and dynamical aspects of geophysical fluids are key to generating the everyday weather that we experience, as well as what the climate will be like in years to come. In this talk we will first review fundamental aspects of earth's atmospheric circulation, and how computer simulations are used as experimental playgrounds to understand climate. Then, background and original research will be presented on atmospheric blocking: persistent extratropical anticyclones known to steer storms and generate devastating heatwaves and cold spells. This work includes climate modeling experiments performed at NOAA Geophysical Fluid Dynamics Laboratory studying blocking in current, "future", and various hypothetical climates. Commentary will also be provided on routes into climate science from the point of view of someone fully trained in traditional physics.
Special Remarks from Dr. V. Ramawamy, Director of NOAA Geophysical Fluid Dynamics Laboratory, will also be added.
About the Speaker
Veeshan "Vee" Narinesingh is a physicist who utilizes computer programming and mathematics to study the physics of weather, climate, and climate change. Vee completed his B.S. and Ph.D. in Physics at The City University of New York (CUNY). He currently is a Postdoctoral Researcher at the cooperative institute between Princeton University and NOAA Geophysical Fluid Dynamics Laboratory. Vee is a born and raised New Yorker whose parents immigrated from the island of Trinidad. He has very strong passions towards diversity, equity, and inclusion within STEM spaces. He also currently serves as the Director of Community Outreach for the Harlem Gallery of Science (HGS) and is a founding Mentor Leader of the NSBP and HGS Mentoring Program which serves adolescents in Harlem, New York City.
---
Wednesday, May 3, 2023 at 4:00 PM ET

Register [Closed]
---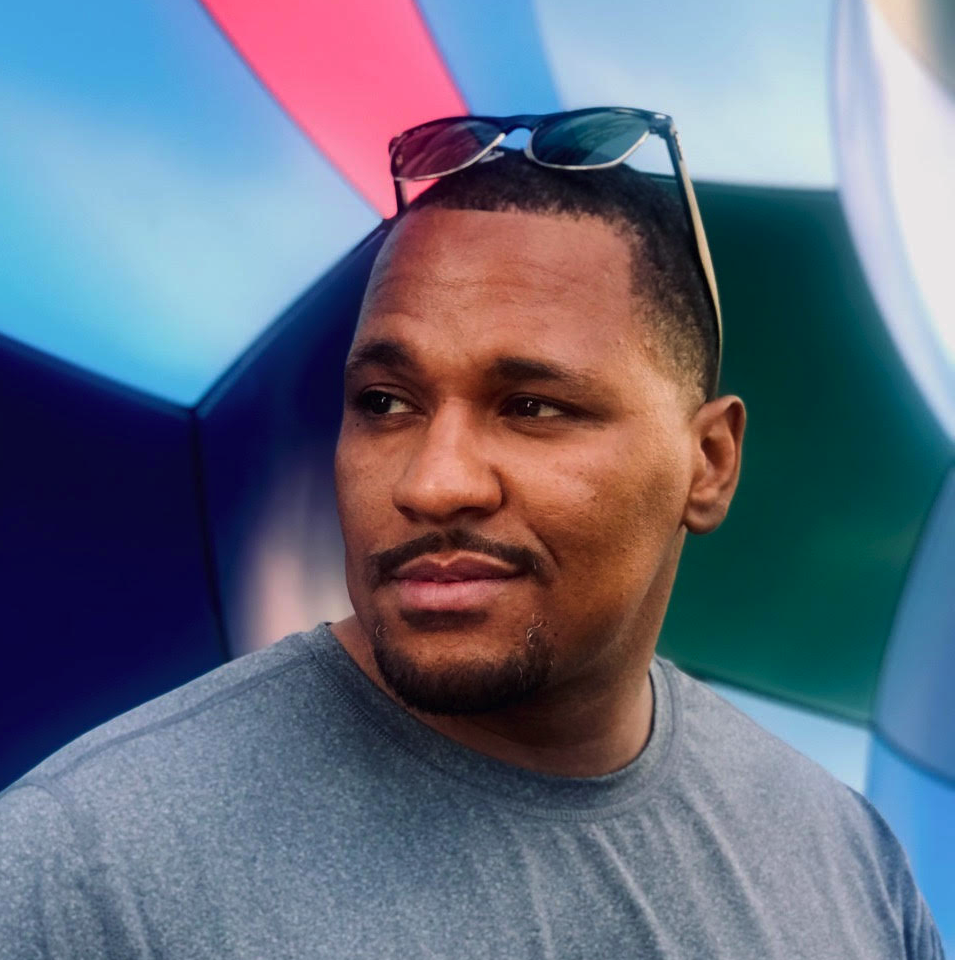 Bryan J Ramson
Associate Scientist at Neutrino Division, Fermilab
Reviewing the Physics Program of the Fermilab Modern Modular Bubble Chamber
Long-baseline neutrino oscillation experiments present some of the most compelling paths towards beyond-the-standard-model physics through measurement of PMNS matrix elements and observation of the degree of leptonic CP violation. State-of-the-art long-baseline oscillation experiments, like NOvA and T2K, are currently statistically limited, however uncertainty in neutrino-nucleus scattering represents an important source of systematic uncertainty in future experiments like DUNE and Hyper-Kamiokande. Neutrino cross-section uncertainties can be reduced through high-statistics measurement of neutrino interactions on light nuclei, but creating a detector with an appropriate light target has proved elusive since the hydrogen bubble chambers designed in the 70's. Modern bubble chamber-based dark matter detectors like PICO and the Scintillating Bubble Chamber have demonstrated that advances in sensor technology, computing, and automation would allow a modern bubble chamber to fully utilize the megawatt scale intensity LBNF beam. This talk will review the broad physics program and the construction of a hydrogen bubble chamber for use with neutrinos at Fermilab.
About the Speaker
Bryan Ramson is a neutrino physicist working on the intensity frontier of high-energy particle physics. He works as an associate scientist at Fermilab, where he uses his expertise in medium and high-energy nuclear physics to improve measurements of neutrino oscillations and refine our understanding of neutrino-nucleus interactions. He is a member of two large experimental collaborations: the Fermilab NuMI Off-axis νe Appearance (NOvA) Experiment and the upcoming Deep Underground Neutrino Experiment (DUNE), a future Fermilab experiment. When not directly supporting the measurement of neutrino oscillations, he studies neutrino-nucleus interactions in the NOvA Near Detector and leads an independent R&D project to develop a new generation of hydrogen bubble chambers. Bryan earned dual B.S.'s in Physics and Mathematics, and an M.S. in Atmospheric Sciences from Howard University in Washington, DC. He earned another M.S. and Ph.D. in Applied Physics from the University of Michigan, Ann Arbor. His doctoral work concerned the study of nuclear anti-matter and occurred as a visiting scholar on the Argonne/Fermilab high-energy nuclear/particle physics experiment, E906/SeaQuest.
Bryan has a strong commitment to serving society scientifically, as well as socially. Before matriculating at Michigan he was a visiting scholar at Earth Sciences Division of NASA Goddard from Howard University, working primarily on the measurement of cloud properties in the Baltimore-Washington corridor and the US Southern Great Plains region. He currently serves as the co-Chair of the Fermilab Saturday Morning Physics program and has engaged in various forms of community engagement around the Chicagoland area especially as it concerns science outreach and local community organizing.
Bryan is a native of New Orleans, LA, coming of age in the Seventh and Ninth Wards of the city. He currently resides in the West Garfield Park neighborhood on the West Side of Chicago, Illinois. When he is not thinking about quarks and leptons or actively working for a better future, he enjoys popular television and movies, speculative fiction, exercise, performance driving, and video games.
---
Friday, February 24, 2023 at 3:00 PM ET

Register [Closed]