The National Society of Black Physicists (NSBP) Innovate Seminar Series is a new forum for NSBP members to share their research ideas and projects in a non-specialist way with a wide audience. The 30-minute talk (followed by 15 minutes of Q&A) will be a Zoom Webinar, and recorded. It will be available to the whole world soon after the event at KITP Online. Talks are also posted on the NSBP website https://nsbp.org/blogpost/1882533/Innovate-Seminar-Series
---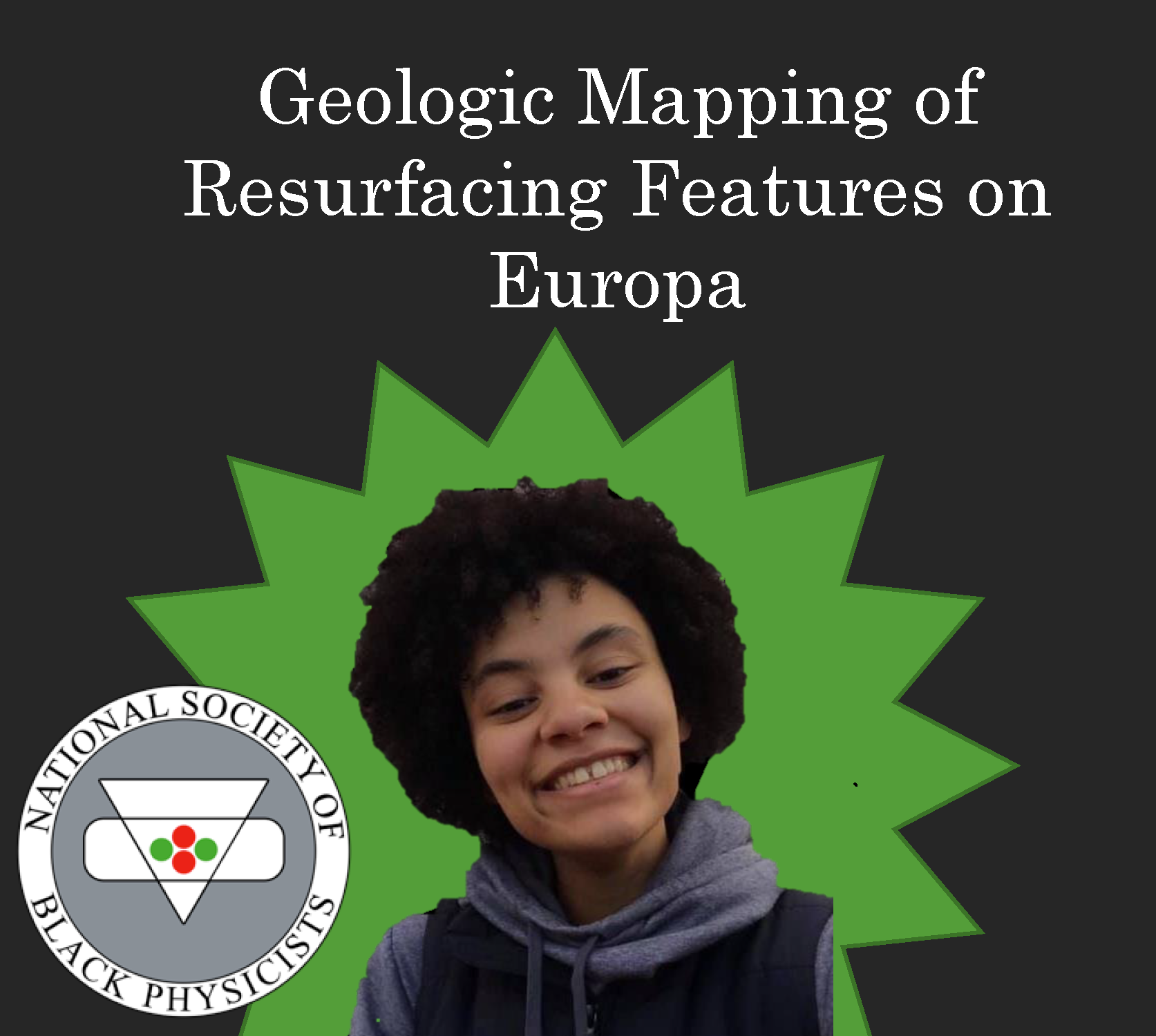 Kierra Wilk
1st year PhD student at Brown University
Geologic Mapping of Resurfacing Features on Europa
There is ample evidence to suggest that Jupiter's moon Europa is geologically active, with previous investigations suggesting that a subset of domical features on the icy moon may be cryovolcanic in origin. Cryovolcanism, the eruption of water phases or other aqueous solutions that would otherwise be frozen solid at the normal temperature of an icy satellite's surface, has likely played a role in the resurfacing of Europa in recent geologic time. Although several of these domes have been classified as extrusive cryovolcanic domes, they have not been extensively investigated, warranting a re-examination of cryolava domes on Europa. Here we mapped domical features characterized by their lobate shape and relatively smooth surfaces. These domes are distinct from the surrounding terrain and have been interpreted to have formed via the axisymmetric flow of viscous fluids onto Europa's surface. Pinpointing the spatial distribution of these domes and their geologic context will provide insights into regions of recent geological activity on Europa and into Europa's cryovolcanic evolution.
About the Speaker
Kierra Wilk is a 1st year PhD student at Brown University in the Department of Earth, Environmental, and Planetary Sciences. Prior to her graduate studies, Kierra received her Bachelor of Science in Geology with a minor in Astrobiology from Rensselaer Polytechnic Institute.
---
Friday, February 4, 2022 at 5:30 PM ET

Register [Closed]
---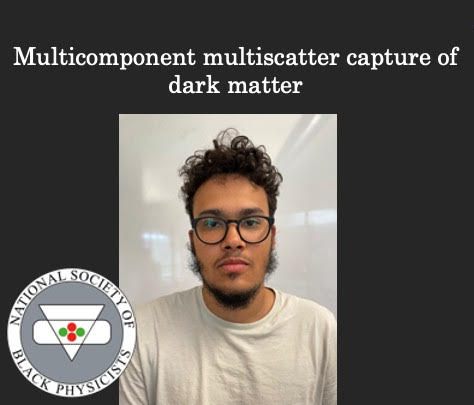 Caleb Levy
Junior Physics Student at Colgate University
Multicomponent multiscatter capture of dark matter
In recent years, the usefulness of astrophysical objects as dark matter (DM) probes has become more and more evident, especially in view of null results from direct-detection and particle-production experiments. The potentially observable signatures of DM gravitationally trapped inside a star, or another compact astrophysical object, have been used to forecast stringent constraints on the nucleon–dark matter interaction cross section. Currently, the probes of interest are at high redshifts, Population III (Pop III) stars that form in isolation or in small numbers, in very dense DM minihalos at z ∼ 15–40, and, in our own Milky Way, neutron stars, white dwarfs, brown dwarfs, exoplanets, etc. None of these objects are truly single component and, as such, capture rates calculated with the common assumption made in the literature of single-component capture, i.e., capture of DM by multiple scatterings with one single type of nucleus inside the object, are not accurate. In this paper, we present an extension of this formalism to multicomponent objects and apply it to Pop III stars, thereby investigating the role of He in the capture rates of Pop III stars. As expected, we find that the inclusion of the heavier He nuclei leads to an enhancement of the overall capture rates, further improving the potential of Pop III stars as dark matter probes.
About the Speaker
Caleb Levy is a junior physics student at Colgate University who was born and raised in Kingston, Jamaica. Caleb currently works with Dr. Cosmin Ilie at Colgate on dark matter phenomenology in astrophysical objects and hope to study theoretical cosmology and particle theory after graduation. Caleb is also an avid music lover (currently learning Jazz piano), amateur tennis enthusiast, and lover of dogs!
---
Wednesday, December 1, 2021 at 5:30 PM ET

Register [Closed]
---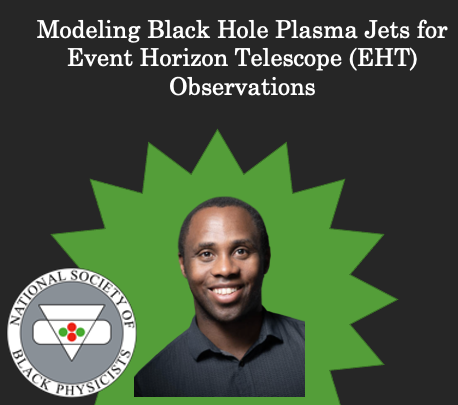 Richard Anantua
Center for Astrophysics | Harvard & Smithsonian and Black Hole Initiative at Harvard
Towards Event Horizon Scale Physics from Movies and Polarization Maps
Recent radio observations of inflowing and outflowing plasma in the vicinity of supermassive black holes are linked to plasma physics models via simulations through a methodology called "Observing" Jet/Accretion flow/Black hole (JAB) Systems. For M87, HARM jet simulations are viewed from Very Large Array (43 GHz) to Event Horizon Telescope (230 GHz) scales to replicate the observed collimation and magnetic field configuration, while serving as the basis for a semi-analytic model used to generate polarization maps and spectra. This model varies plasma content from ionic (e-p) to pair (e-e+). Emission at the observed frequency is assumed to be synchrotron radiation from electrons and positrons, whose pressure is set to relate to the local magnetic pressure through parametric prescriptions. Polarization maps and spectra are found to be observationally distinguishable through positron effects such as decreasing intrinsic circular polarization and Faraday conversion. For Sagittarius A* in our Galactic Center, we include a turbulent heating electron temperature model. Intensity map movies simulating hourly timescales show that these models can be classified into at least four types: 1.) thin, asymmetric photon ring with best fit spectrum; 2.) coronal boundary layer with thin photon ring and steep spectrum; 3.) thick photon torus with flat spectrum; and 4.) extended outflow with flat spectrum. These models may be distinguishable by the Event Horizon Telescope.
About the Speaker
Dr. Richard Anantua is a postdoctoral fellow at the Center for Astrophysics | Harvard & Smithsonian and Black Hole Initiative at Harvard. As a member of the Event Horizon Telescope Collaboration, Richard coordinates the Outreach Group and links observational features of near-horizon shadows of supermassive black holes to the plasma physics of nearby accretion disks and jets which light them up. Prior to Harvard, Richard held a postdoctoral/instructor position at U.C. Berkeley after completing his Ph.D. in Physics at Stanford under Prof. Roger Blandford and a B.S. from Yale in (Physics & Philosophy) and (Economics & Mathematics).
---
Friday, October 22, 2021 at 5:30 PM EDT

Register [Closed]
---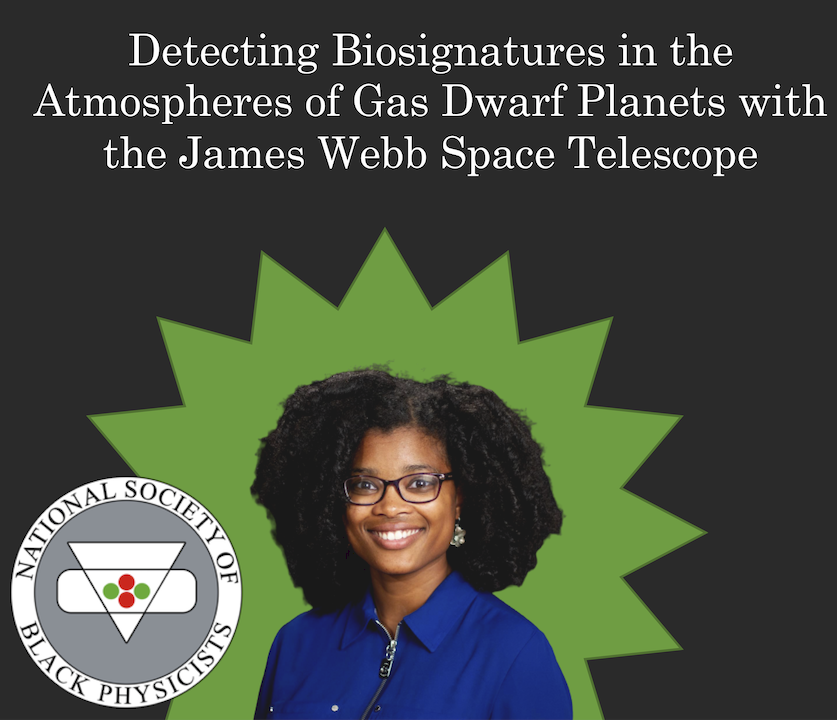 Caprice Phillips
PhD student at The Ohio State University
Detecting Biosignatures in the Atmospheres of Gas Dwarf Planets with the James Webb Space Telescope
Exoplanets with radii between those of Earth and Neptune have stronger surface gravity than Earth, can retain a sizable hydrogen-dominated atmosphere. In contrast to gas giant planets, we call these planets gas dwarf planets. The James Webb Space Telescope (JWST) will offer unprecedented insight into these planets. Here, we investigate the detectability of ammonia (NH3, a potential biosignature) in the atmospheres of seven temperate gas dwarf planets using various JWST instruments. We use petitRADTRANS and PandExo to model planet atmospheres and simulate JWST observations under different scenarios by varying cloud conditions, mean molecular weights (MMWs), and NH3 mixing ratios. A metric is defined to quantify detection significance and provide a ranked list for JWST observations in search of biosignatures in gas dwarf planets. In this talk, I will show that it is very challenging to search for the 10.3-10.8 micron NH3 feature using eclipse spectroscopy with MIRI in the presence of photon and a systemic noise floor of 12.6 ppm for 10 eclipses. NIRISS, NIRSpec, and MIRI are feasible for transmission spectroscopy to detect NH3 features from 1.5 to 6.1 microns under optimal conditions such as a clear atmosphere and low MMWs for a number of gas dwarf planets. In this talk, I will show that searching for potential biosignatures such as NH3 is feasible with a reasonable investment of JWST time for gas dwarf planets given optimal atmospheric conditions.
About the Speaker
Caprice Phillips is a third year PhD student at The Ohio State University working with Dr. Ji Wang in the Department of Astronomy. Her research involves the detectability of potential biosignatures in the atmospheres of gas dwarf exoplanets with upcoming telescopes like JWST and Twinkle.
---
Thursday, September 30, 2021 at 5:30 PM EDT

Register [Closed]