Tuesday, December 13, 2011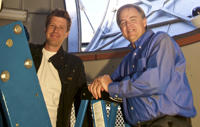 (Santa Barbara, Calif.) –– An international team of scientists, including astrophysicists from UC Santa Barbara, has discovered that a supernova that exploded in August –– dubbed the supernova of a generation –– was a "white dwarf" star, and that its companion star could not have been a "red giant," as previously suspected. The findings are published in two papers in the journal Nature this week.
White dwarf stars are small but very dense stars, and red giants are stars that swell to massive proportions when they approach middle age.
[Read UCSB Press Release] [Read Caltech Press Release]
image: Andy Howell (left) and Lars Bildsten
with LCOGT's prototype 1-meter telescope
at headquarters in Goleta.
Credit: Rod Rolle