Jean-Pierre Hébert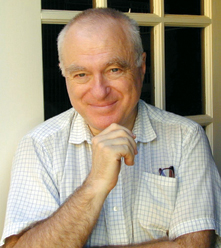 Jean-Pierre Hébert was appointed Artist in Residence at the Kavli Institute for Theoretical Physics at UC Santa Barbara in June 2003. His professional background in engineering and computer programming languages originally led to a consulting career, though he maintained his interests in arts and mathematics. In 1979 Hébert pioneered the creation of drawings based on original code and computer-driven devices, and in 1983 he ceased consulting to devote himself fully to art.
In 2006, Hébert received the Pollock-Krasner Foundation grant.
Hébert's first exhibition took place in 1989, and since then his work has been exhibited throughout the U.S. and has achieved international recognition. His work is featured in the Pioneers section of the Digital Art Museum site, and is documented in the New York Drawing Center. Recently he mounted a solo exhibition at Arizona State University entitled "Traces on Sand and Paper," and his work was included in the "Brooklyn Print National" show at the Brooklyn Museum of Art. His work has been selected almost every year since 1989 for the juried SIGGRAPH Art Galleries and Travelling Art Shows, and has been exhibited in Helsinki, Finland at Kiasma Museum of Contemporary Art show "Alien Intelligence," and in Vence, France at the Galeri Alphonse Chave.
Hébert has lived in Santa Barbara, California since 1985, and his work is known locally from exhibitions at the Design Arc, Monlleo, Faulkner and Karpeles galleries.
For more information and examples of his work please visit his web site: http://jeanpierrehebert.com.
---
Online Talks