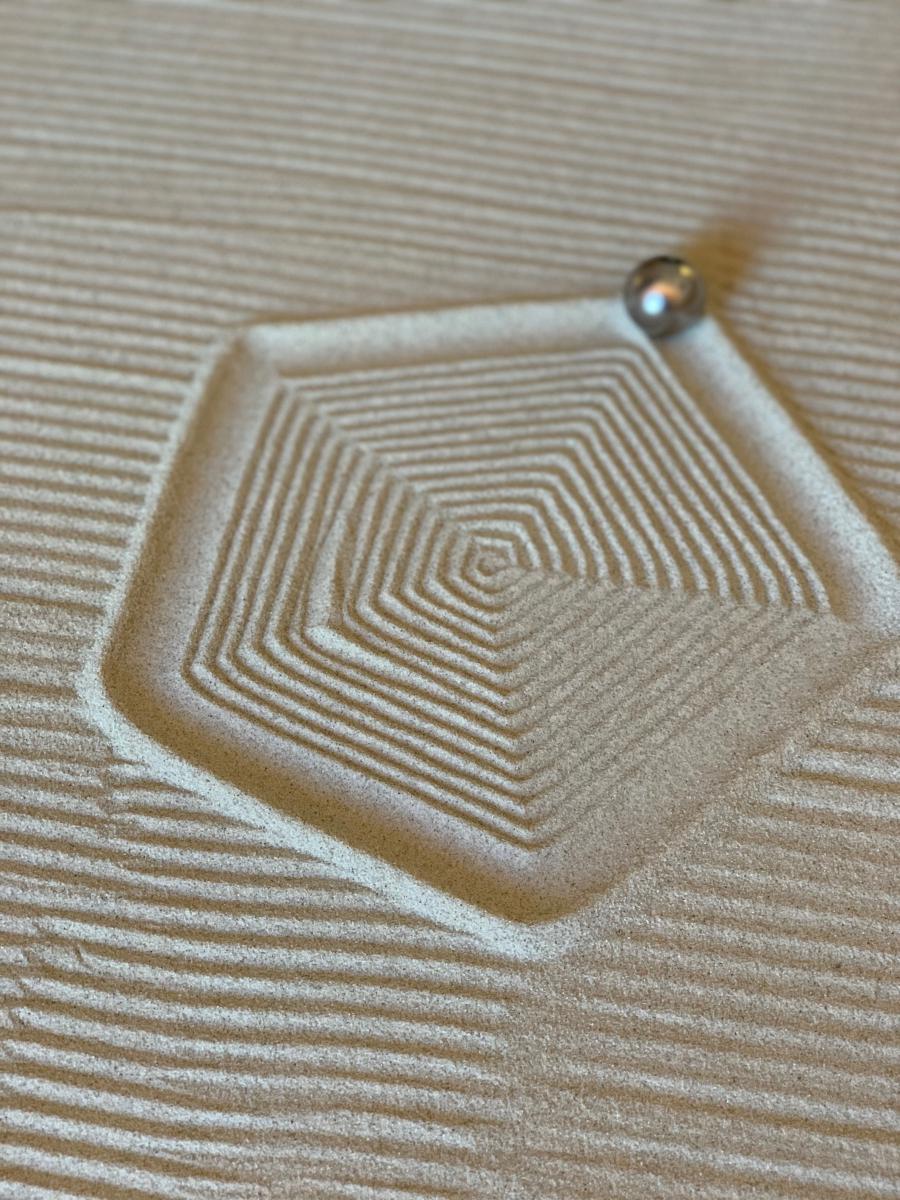 Photo by Lisa Stewart.
We were very excited this month to see the return of Ulysses, the unique sculpture designed and built by KITP's Artist-in-Residence Jean-Pierre Hebert. First installed in Kohn Hall over a decade ago with support of a David Bermant Foundation grant, Ulysses had been away for upgrades and repairs for quite a while. Indeed, many of our visiting physicists were asking: "Where is the sand machine?", as they affectionately refer to Ulysses.
Ulysses consists of a stunning African mahogany (khaya Ivorensis) base, built by local fine furniture builder Victor DiNovi, and a hidden programmable mechanical device conceived by Jean-Pierre and designed and built by UCSB engineer David Bothman that moves the ball through the sand to create captivating patterns that provide countless hours of distraction for all in Kohn Hall. I'm convinced that the contemplations inspired by watching Ulysses in action has moved physics forward over the years. The photo below shows all three reveling in Ulysses' successful return!
Jean-Pierre has been KITP's Artist-in-Residence since June 2003, first adorning the corridors of Kohn Hall with geometric ink drawings derived from his algorithmic approach to art. Internationally recognized, he has exhibited his pieces around the world, recently at the Pompidou Center in Paris, and received a prestigious Pollock-Krasner Foundation grant. I had the honor of working with him to identify and select new art pieces for the Munger Physics Residence, allowing for the exposure of thousands of physicists to the "Algorist" approach to art. For over a decade, Jean-Pierre has also been designing and producing the now-famous holiday cards that we distribute to the Friends and Supporters of the KITP.
Please stop by to see Ulysses when you can. Still images do not do it justice!
- Lars Bildsten, KITP Director
KITP Newsletter, Fall 2019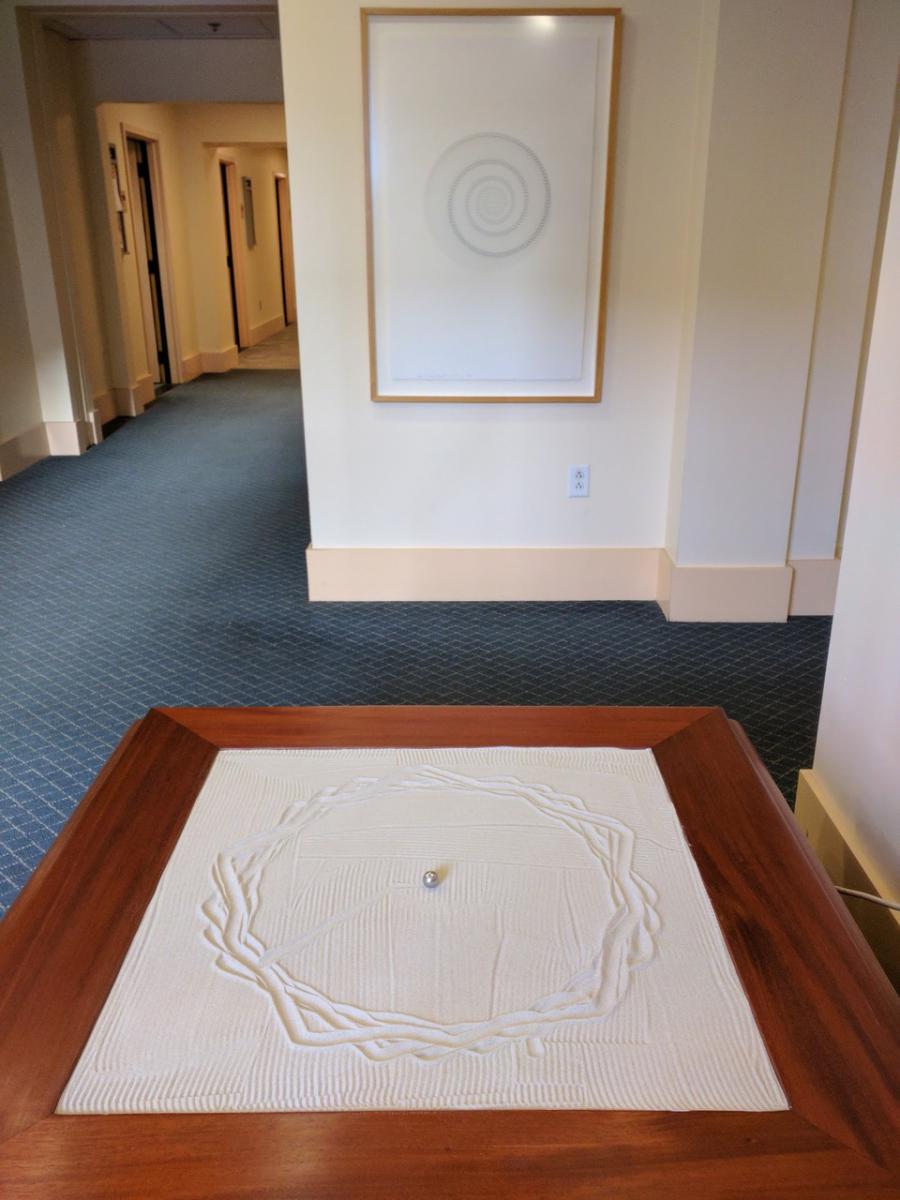 Ulysses sits on an African mahogany base at Kohn Hall, surrounded by other Hebért pieces. Photo by Megan Turley.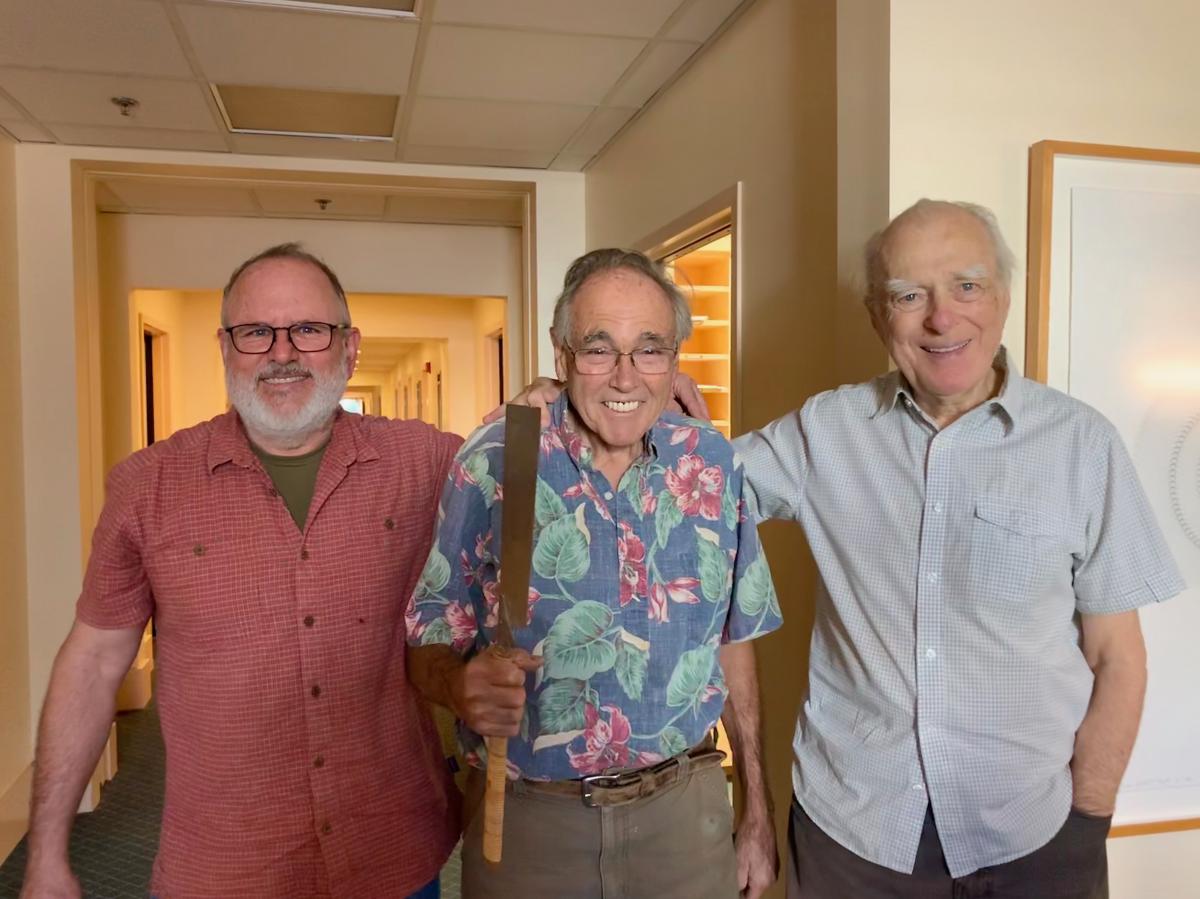 Left to Right: David Bothman, Victor DiNovi, and Jean-Pierre Hebért during installation of Ulysses. Photo by Lisa Stewart.