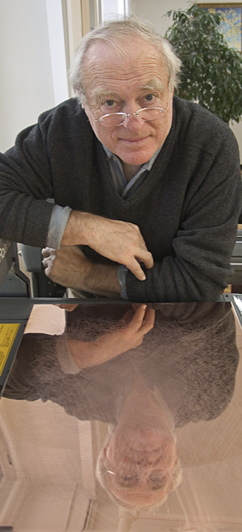 Credit: Claire Hébert
It is with heavy hearts that we share that KITP artist in residence Jean-Pierre Hébert has passed away. He died on Sunday March 28, 2021, surrounded by his family. Hébert combined his passions for computing and art to become a celebrated pioneer of digital artwork.
Born in Calais, France, Hébert grew up in Vence surrounded by luminaries of the modern art movement, instilling in him a sense of creativity and expression that followed him throughout his life.
Although he set out to study engineering in college, mathematics and computers — which were still in their early days — captivated the young Frenchman. He spent years working in computer science and never lost his creative drive.
In the mid-1970's, a bolt of inspiration struck Hébert while reading about the artwork of Anni Albers in an IBM brochure: He could harness computer algorithms to create works of art. The introduction of smaller, personal computers around that time made this feasible. Since then, Hébert devoted his career to exploring the bounds of computational art.
For Hébert, each piece he produced was merely one instantiation of a life-long composition. "The code I'm using now is using many parts [from back] in 1974," he once said. "I added so many layers to it, [but] I can still do the first ones."
He and his wife, Claire eventually moved to Santa Barbara, where fate brought them together with former KITP director David Gross, who was looking for artwork to adorn Kohn Hall. This quickly developed into a lasting relationship between the artist and the institute, and many of Hébert's works have come to grace Kohn Hall and the Munger Physics Residence.
The Hébert's relationship to campus extends beyond KITP. All four of their children graduated from UC Santa Barbara, one became a professional violinist, while three went on to pursue advanced degrees in physics.
Of all of his accomplishments, Hebert is most proud of his initial genius in choosing to explore a new type of art form. "I've done this drawing and that drawing, but they are all drawings, not ideas," he had said. "It was the idea of using the computational power of a computer to make a drawing that started everything."
---
See also: In Memoriam: Jean-Pierre Hébert (1939–2021) at Leonardo: https://leonardo.info/blog/2021/04/27/in-memoriam-jean-pierre-hebert-193...