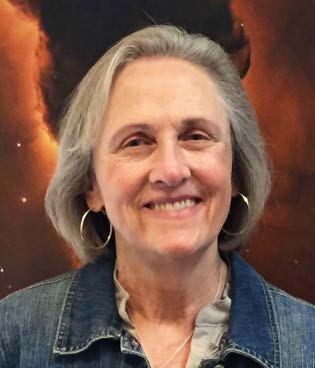 Monica Curry retires after 22 years at KITP.
"I have been able to take the nuances of what make a visit for physicists comfortable and productive, and download that into the new residence and see that carried into the future."
After 22 years as KITP's Housing Coordinator, Monica Curry retired in late June leaving a proud legacy of advancing physics by enabling visiting scientists to be immediately productive upon their arrival in Santa Barbara. Curry joined the then-ITP staff in November 1993. At the time, she was a real estate agent, about to be married and knew nothing about the institute. "At the time, I knew nothing about theoretical physics; I knew nothing about ITP," Curry said. "I didn't realize it was world famous, but I could tell whatever they were doing, they took it really seriously."
Quickly after she was hired, the ITP staff moved into Kohn Hall and Curry has occupied the same office since. While her office hasn't changed, the way she does her work and its scope has. When she started, ITP housed about 200 visitors per year. That number has grown to 700 visitors staying three weeks or longer and about 1,000 total each year with half coming from outside the United States. While arranging their housing, Curry has also helped innovate the systems and databases needed to accomplish this challenging task.
"The whole philosophy of the KITP staff is to enable a scientist to land here and start doing science as soon as possible with as little bureaucratic entanglement as possible," Curry said of her work. Former Director James Hartle described Monica's accomplishments nicely at her retirement party: "You were of great help to me. I don't think I had to think about housing the whole time I served."
The relationships that Curry has built through the years with the local community and property owners have been pivotal to obtaining this objective. During her tenure, she is proud to share that she has never had to advertise to the community for rentals with each coming from decades-long relationships and word-of-mouth referrals due to the Institute's sterling reputation.
Fantastic community relationships are just an aspect of the great legacy Curry has built at KITP. She was integral to the creation of the Rice Family Fund along with former KITP Development Officer Dr. Sarah Vaughan. The fund was established when Anne Rice donated her home — which was often rented to ITP visitors. The proceeds from the sale now provide extra funding for visiting physicists, particularly female scientists, with unique family issues such as daycare needs.
According to Curry, the biggest highlight of her career at KITP has come recently with the creation of KITP's Residence project. Early in the project's development, the donor, Charlie Munger recognized that Curry's years of experience and knowledge about physicists' housing needs were extremely useful to designing the ideal space for KITP visitors. In a note to Monica for her retirement celebration, Charlie wrote: " Monica is the most important member of our team. She has intelligence plus knowledge, which is a good combination."
"Charlie recognized that my experience of housing physicists for 22 years gave me insights into what their needs are and what would work for them. He has respected that and has incorporated those ideas into the project," Curry said. "So instead of handing off what I have been doing: which are many private arrangements, I have been able to take the nuances of what make a visit for physicists comfortable and productive, and download that into the new residence and see that carried into the future. That is the highlight and that's why I feel like I am leaving a legacy."
Becoming a part of the worldwide physics community has been deeply satisfying for Curry. During her career at KITP, she has seen the development of String Theory and celebrated the awarding of a Nobel Prize to former KITP director David Gross.
"The scientists have shown a large amount of appreciation for not only what I do, but what the entire staff does," Curry said. "I have several that have told me that this is a unique place because there aren't a lot of other places where they can hit the ground running so seamlessly and start doing science immediately. That was the philosophy when I got here and remains the philosophy today."
While Curry is now embarking on retirement, rest and relaxation aren't part of the plan. She will continue to serve the Santa Barbara community through her participation on the Alano Club of Santa Barbara Inc., which houses meetings for local recovery groups. She is also the President of the Board for the Santa Barbara Bird Sanctuary, which provides rescue and housing for parrots that have lost their homes and provides education and outreach for the parrot owning community.
Also on her retirement to-do list will be plenty of hiking, sailing, and further pursuit of her love for afrocuban percussion, specifically the congas.
- Lisa Skvarla, UCSB Development
KITP Newsletter, Fall 2015