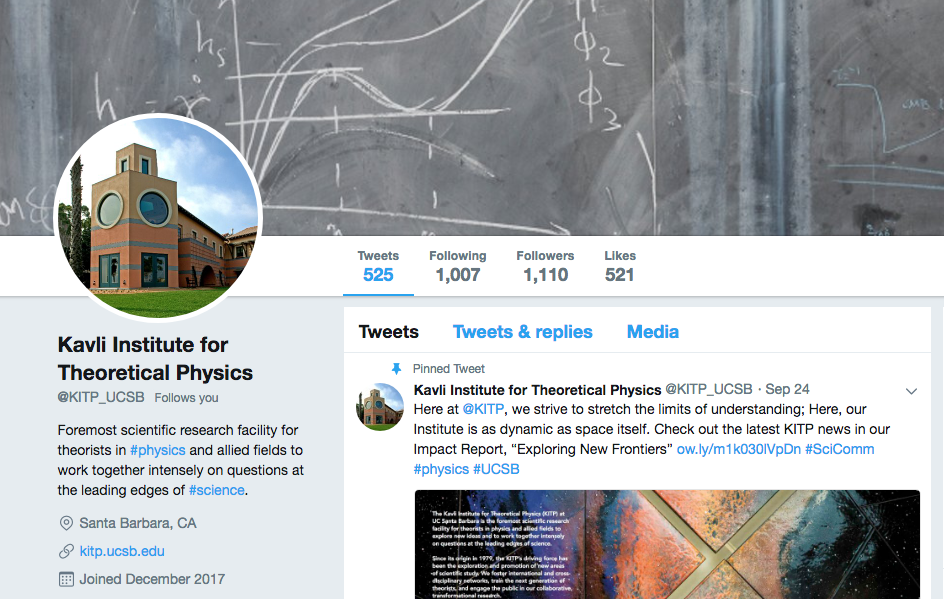 KITP has fostered connections amongst scientific communities for almost 40 years through well-defined and extended-stay interactive scientific programs, and by allowing space and time for deep and lasting collaborative relationships to develop. On January 1, 2018, we added a new venue for connecting our visiting scientists, the global scientific community, and science enthusiasts when we launched the @KITP_UCSB Twitter account. It has been rewarding to observe the ways in which many of our scientists and friends have actively engaged with us, and with each other, on this platform. By the printing of this Newsletter [Fall 2018], we will have over 1,200 followers!
Visitors frequently Tweet us about their KITP experiences!
Programs and conference visitors often "live Tweet" sessions for those in the field who may not have been able to attend; they share testimonials about their experiences while visiting, information about upcoming programs and conferences, and publications that resulted from collaborations started while at KITP. For KITP, this has become an additional platform for us to share KITP news, links to upcoming science talks and lectures, program and conference information, KITP history, feature articles or photos, and updates on what's happening at KITP.
We are grateful to see our visitors tagging us in science conversations, sharing positive reviews (and a lot of sunset shots!) and retweeting our announcements. Please follow us and keep up with what's happening!
- Lisa Stewart, KITP Chief Administrative Officer
KITP Newsletter, Fall 2018