A History of Art at the Institute
The KITP exists in two physical spaces on UC Santa Barbara's expansive campus – Kohn Hall, where physicists collaborate, which enjoys a panoramic view of the Pacific Ocean and Santa Barbara Channel Islands, and the Charles T. Munger Physics Residence, the beautifully appointed building where visiting scientists live during their visit to KITP.
Adorning the walls of both of these buildings was no simple task. The selection of paintings, drawings, photographs, sculptures, and craftwork that would eventually fill KITP's spaces took over two decades. Kohn Hall and the Munger Residence are now home to a collection of over 80 pieces—and the collection is growing.
Local Santa Barbara painter Marcia Burtt, whose art features prominently at KITP's Charles T. Munger Physics Residence, fondly recalls her time as a founding member of the KITP Art Committee, which undertook this considerable task.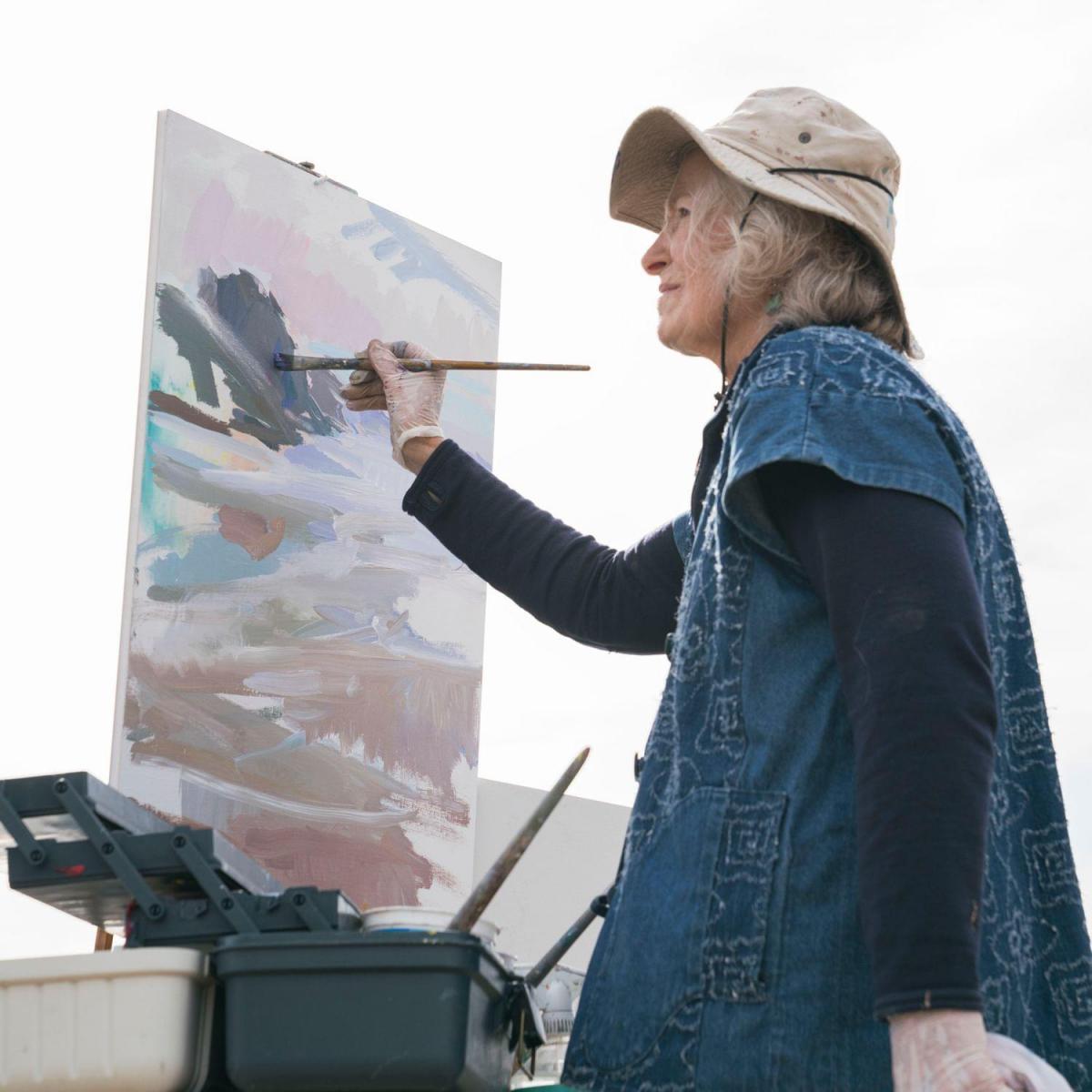 Photo Credit: Bill Dewey
Painter and KITP Art Committee Member Marcia Burtt
"I was always interested in physics even though I'm an artist," she says. "My sister and I both married theoretical physicists."
Burtt and her late husband David Sowle were initially introduced to KITP through Friends of KITP events at Kohn Hall in the early 2000s. At one such event, they ran into friends and longtime KITP supporters Beth and Derek Westen.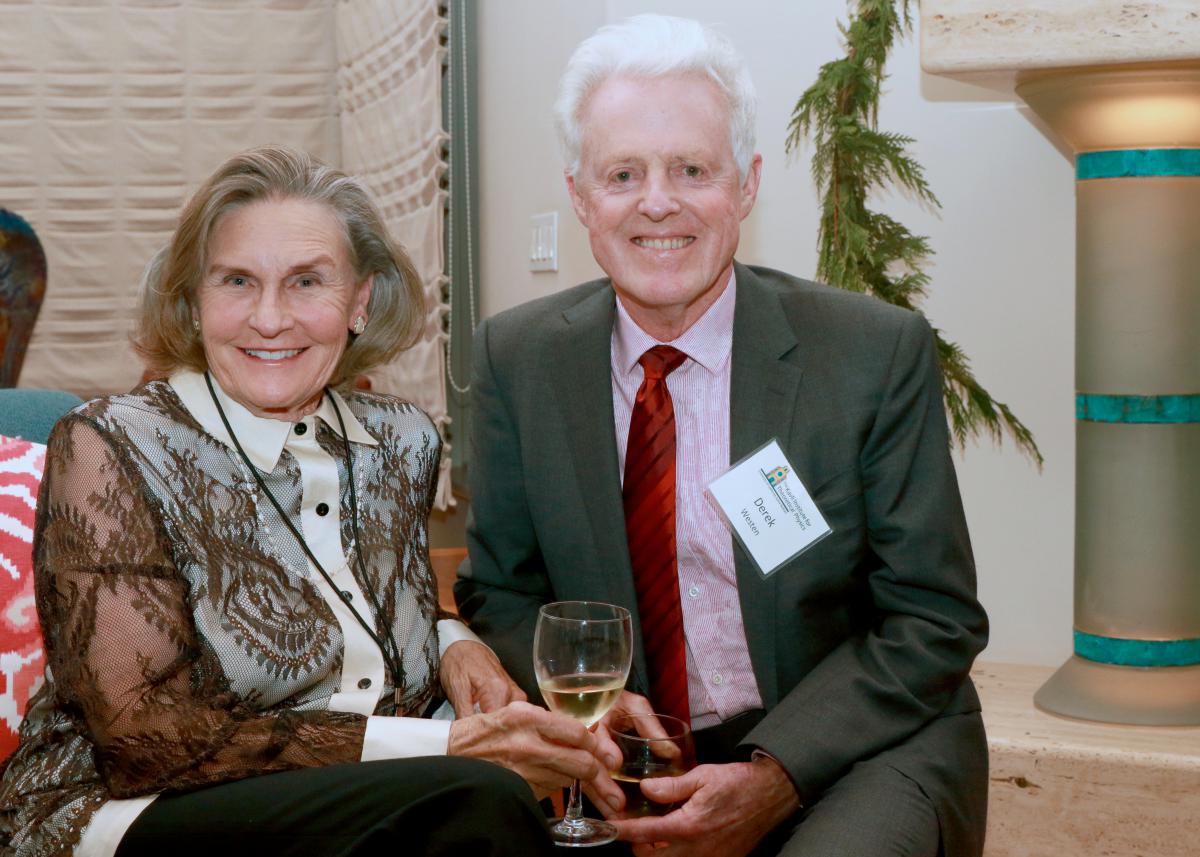 Photo Credit: Monie DeWit
Longtime Friends of KITP Derek and Beth Westen at the Friends of KITP annual Gluon Holiday party in 2019
Derek was a member of a newly-formed Advisory Council made up of a group of physics enthusiasts chosen by then-director David Gross to assist with fundraising for KITP. Gross was motivated to include art in the initial fundraising push.
"I hate empty walls," He explained, "At my house we have paintings everywhere!"
But the suggestion to the group to consider funding art at KITP did not take off as expected. "Most were totally uninterested in art," he lamented. "I learned over the years that it can be extremely difficult to raise money for art at a physics institute. There is a very small intersection of people interested in physics and art."
Luckily, the Westens were located at just such an intersection. At Gross's request, Beth Westen agreed to serve as founding member of the KITP Art Committee along with Burtt. They were joined by the late Santa Barbara Museum of Art photography curator Karen Sinsheimer.
"It was the three of us, plus David Gross, in the beginning," Burtt said.
The small committee was limited by a budget left over from KITP's original director, Nobel Laureate Walter Kohn. Some of the first pieces at KITP were hung in the temporary space in Ellison Hall before Kohn Hall was built in 1994, but made an impression all the same.
"Walter Kohn had an art budget at KITP; that was something to aspire to," recalls Lee Smolin, one of the first postdoctoral scholars at KITP and a co-founder of the Perimeter Institute in Canada.
The original funds were left over from a generous gift from John and Betty Stephens to pay for the architectural designs for Kohn Hall, but would not be enough to entirely outfit the walls of the institute with the caliber of art that Gross and the committee had envisioned for a world-class physics institute. "That's when I realized to my dismay that I would have to engage in fundraising, not something that I had any experience in or looked forward to," he laughed.
Luckily, the committee thought up an innovative way to fill KITP with art without incurring huge costs. Inspired by similar art programs at Princeton and Fermilab in Illinois, Gross proposed an artist-in-residence position, modeled after the idea of journalist-in-residence programs.
Fermilab's first director, Robert Wilson, eventually led Gross to John Rose, sculptor of the DNA-inspired Odalisque which curves gracefully above visitors as they enjoy daily coffee and cookies in Kohn Hall's commons. Odalisque was the art committee's first purchase, followed by a Calder-inspired mobile and series of ocean wave photographs by Bill Dewey.
In 2003, Beth Westen and Marcia Burtt proposed Jean-Pierre Hébert as KITP's first Artist-in-Residence after Beth saw his work at a small gallery in Santa Barbara. Hébert, with his background in engineering and computer science, pioneered the creation of drawings based on his original code and computer-driven devices. Burtt had shown his work in her gallery, and excitedly described what drew her to his art. "I loved the obsessive nature of what he does."
"What I wanted was not just random art, but something that was associated with science and physics, if possible," Gross said of his selection process. "Jean-Pierre was great from that point of view; he was very interested in physics and was a conceptual artist. People like Jean-Pierre are not easy to find."
Once chosen as KITP's Artist-in-Residence, the position stuck. "There might have been moments when they thought, 'Well, shouldn't the Artist-in-Residence revolve?" Burtt said, "But Jean-Pierre was so enamored with what he did there that he became almost part of the faculty. We never looked any further."
Photo Credit: HARRISON TASOFF
Former KITP Artist-in-Residence Jean-Pierre Hébert next to his dynamic sand and wood sculpture, Ulysses
"We hit it off, and he was fantastic," Gross confirms. "We gave him an office and over the years he was able to take advantage of our computers, as his art is very connected to that." Hébert's computer-generated line drawings, with soft colors and complex, pleasing patterns, soon decorated the walls of Kohn Hall, and his meditative sand and wood construction Ulysses, created with the help of UCSB engineer David Bothman and furniture designer Victor DiNovi, provided hours of contemplation.
When Director Lars Bildsten was faced with the task of finding art for KITP's newly-built Munger Physics Residence in 2015, he returned to Hébert, who created custom pieces to decorate the interiors of visitor rooms (Hébert also created and hand-printed the popular KITP Holiday Card for many years before his passing in March of 2021) and coordinated the recruitment of Hans Dehlinger, Ian Parker, and F. Myles Sciotto to create conceptual pieces for the Residence based on the intersection of art and science.
Marcia Burtt provided recommendations on piece selection and size during the process, and her landscape prints of Santa Barbara and Goleta are interspersed throughout the public spaces and guest rooms. Prints of her good friend and late painter Meg Torbert's abstract work can also be found there, as can many unique pieces from Gary Smaby, a frequent visiting artist who has spent substantial time at the KITP.
Remarking on the importance of providing an inspiring place for physicists to work and live, Burtt recounted an instance on a trip to Europe in which she overheard, with amusement and pride, two hotel guests discussing their recent visit to KITP and the Munger Residence. "It's a thrill to be associated with such a world-renowned place."
Directors at KITP have long understood the fundamental value of connecting the aesthetic world with the scientific one, and Burtt considers it as two sides of the same coin. "Both what I do as a painter and my curiosity about the natural world . . . are all part of the gift of being alive and sentient in this universe," she said. "I see them as different mushrooms growing on the same piece of dirt. You need both – and not just both, but all."
Although the art committee no longer meets regularly, contributions by the original group of four continue to be appreciated by over 1,000 yearly visitors to KITP as well as its faculty, fellows, and staff.
---
Author: Megan Turley, KITP Development Coordinator
KITP Newsletter, Fall 2021