Featured Friend: Skona Brittain
---
Meet our Friend, Skona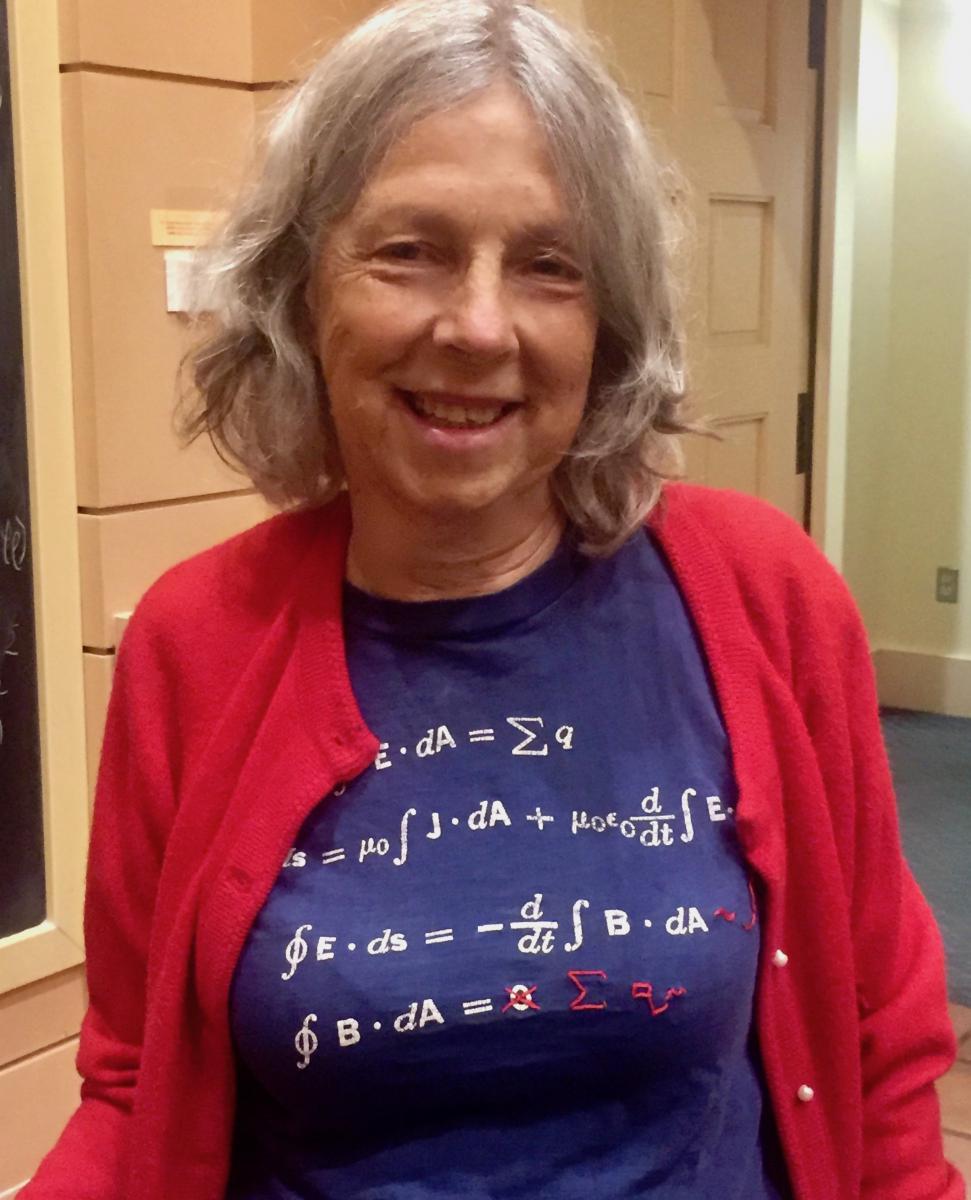 Skona Brittain has been a Friend of KITP for over 13 years
Skona rolls into Friends' gatherings on a pedal-assist ebike, usually sporting a t-shirt themed for the evening's lecture that showcases her quirky sense of humor. An avid biker and swimmer, she loves nothing better than an ocean swim, even on a cold wintry day.
"I came to UCSB because I fell in love with the area. I was living in a suburb of Boston and missing my childhood home of California, so I flew out to visit colleges where I'd been accepted. On the way from Stanford to Occidental, I stopped in IV to visit a friend," she recalled, and walked to the beach for a swim before breakfast. That did it! "I called the [UC Santa Barbara] admissions office to see if they were still accepting applications," Skona said, laughing. "It was already July - my parents were dismayed."
She earned a B.A. in Physics from UC Santa Barbara's College of Creative Studies, followed by graduate degrees in mathematics at Princeton and in computer science at the University of Pennsylvania. Soon after, the sea drew Skona and her husband back to Santa Barbara for good. They settled down and raised two daughters, both exceptional in math.
Skona's primary business is the SB Family School (SB stands for Skona, and daughters Shelly and Sandy, Brittain), a private math enrichment program. She began SBFS in 1996 as a private school to homeschool Sandy, and by 2005, SBFS had developed into a seasoned business providing creative math instruction. Skona is incredibly proud of both daughters - Shelly, who won every math competition from elementary through high school, and Sandy, who is now a Health Software Engineer at Apple.
At the heart of SBFS is the Santa Barbara Math Ellipse program - a set of weekly "math circles" for multiple groups, grades 3-12. Math circles bring whiz kids together for creative problem-solving, such as map coloring, as well as socializing and fun. As math-oriented students often feel socially isolated at school, "an equally important facet of what I'm offering them is being with other kids who understand them – and," she chuckled, "who understand their jokes."
Coaching math teams and hosting spirited math competitions (grades 3-12) is another dynamic component of SBFS, and post-pandemic, Skona hopes to restart SBFS summer camps. They explore intriguing and topical specialties, such as MatheMagics, Cryptography, Game Design and Money Matters.
What inspires you?
"I just love math," exclaimed Skona. "I co-started the first math circle in Santa Barbara (at UC Santa Barbara), and I also started one in Israel, by co-funding it, because there weren't any math circles there. It was partly because of wanting to support Israel, but also to support math -- fun math education.
"One of the most gratifying things I do is challenging kids in math who don't get a challenge elsewhere -- and bringing them together. The joy and the need for it inspires me to put up with all the scheduling and rescheduling.
"The other reason I love math circles is that they're very exploratory. I'll give the students a question that they never thought of before, and they start playing with it. And often, I will end that day with, 'Well, it's really cool that we've done this for [levels] three and four. However, it's not even known if it can be done for [level] five … mathematicians don't know yet. Maybe when you grow up you'll prove it…' So, we're doing things that they can understand - and that are at the edge of knowledge."
In March 2020, the coronavirus outbreak sadly brought in-person gatherings to a halt. Then, out of the blue, Skona was invited to join the team of the Julia Robinson Mathematics Festival (JRMF), an educational organization named after a mathematician known for her contributions to solving 'Hilbert's 10th problem.' Pre-pandemic festivals were set in large auditoriums with dozens of tables, each offering unique K-12 math challenges. "They're super fun, colorful, hands-on and engaging," enthused Skona. Since they're cooperative and fun, rather than competitive, they also entice underrepresented groups who may not otherwise get involved to engage and discover math - a real bonus.
"During the pandemic, JRMF switched to weekly (Zoom) webinars with small breakout rooms instead of in-person festivals with tables," she explained, "and we developed engaging apps to replace manipulatives - concrete items, such as chips and blocks, for exploring math concepts."
What do you value most about your involvement with KITP?
An Einstein bust sculpted by Skona's great aunt, Helene Holmes, watches over KITP visitors to her physics-inspired guest room
"I strongly believe that bringing people together is the best way to solve problems, and being able to do so for three weeks or longer (at KITP) is extremely productive.
"When I go to math conferences, I attend lots of interesting talks, but some of the most valuable interactions occur 'between' talks, in the conversations which sometimes lead to skipping the next talk." Skona laughed, adding that "the physicists who visit KITP get lots of such interactions - without needing to skip any talks - and, now that they live at the Munger Residence, they have even more time together."
"Before the Munger Residence was built," she said wistfully, "I really enjoyed housing KITP visitors." When daughters Shelly and Sandy graduated and left home, Skona enhanced their bedroom's beachy décor with iconic physics elements, including a framed Newton quote about the ocean, a photo of Einstein standing on Butterfly beach, and a prized possession -- a bust of Einstein sculpted by her great aunt. She beamed with pride, exclaiming, "He sat for her to make this sculpture!"
"Most of the physicists who stayed with me were graduate students or young postdocs -- because my house is casual, not on a good bus route, and a 4-mile bike ride from KITP. It was obviously a great early-career opportunity for them, and the ones I've stayed in touch with have gone on to very successful careers in theoretical physics."
Skona recalled that in the 70's, UC Santa Barbara had a "party school" reputation it has since shed. In 2020, US News & World Report ranked UC Santa Barbara as No. 7 among the nation's public schools, with special attention given to its strength in physics. Skona attributes the transformation, in significant part, to the impressive achievements of KITP.
Now, when people learn that she has a physics degree from UC Santa Barbara, they exclaim, "Oh wow, that's a really good physics school!" Skona smiled, adding. "It's kind of funny that the value of my physics degree has actually increased."
What do you like most about Friends?
In 1979, during her first year of grad school, Skona came back to visit the Physics department at UC Santa Barbara. As she exited the 6th floor elevator, she recalls being astonished to hear a champagne cork popping at ten in the morning. "Maybe it really is a party school!" she thought. But no, it was a historic moment as the NSF had just approved funding to create the Institute for Theoretical Physics, as it was called before "Kavli" was added in 2001.
A euphoric gathering was toasting this extraordinary achievement with the "Gang of Four" -- James "Jim" Hartle, Raymond "Ray" Sawyer, Douglas "Doug" Scalapino, and Robert "Bob" Sugar -- the UC Santa Barbara physics faculty who submitted the original ITP funding proposal. "So, I feel a special affinity for KITP," Skona reflected, "I feel connected."
"But what I love most about being a Friend of the KITP are the Chalk Talks - with their congenial atmosphere, and where we're free to ask questions anytime. And, of course, I love the food!"
What is something surprising about you that we don't know or wouldn't expect?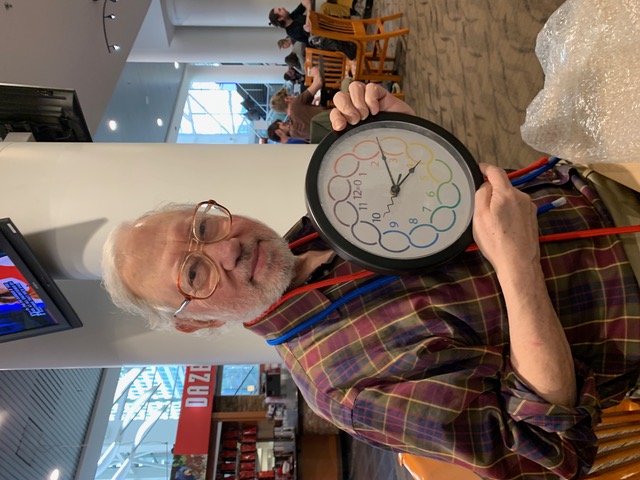 KITP visitor and authority on knots, Louis (Lou) Kauffman, with his knot-themed clock co-designed with Skona
"I'm the first person to have created the now-popular clocks with mathematical expressions in place of the numbers. At first, I only sold them at local Chanukah fairs, Christmas fairs… It was fun because I'd meet people, and talk about math. I even met parents who then sent their kids to my math groups."
As her unusual clocks grew in popularity, they began appearing in prominent scientific gift stores, such as Caltech and MOMATH (the National Museum of Mathematics in New York), as well as New Scientist, a British science magazine - spurring orders from England and Australia. Sadly, one year after Skona began marketing online, sales slumped, triggered by cheaply made copycats. Yet Skona remains pragmatic, "What I love is designing them -- it's so fun to design them, and I also design personal ones, often for math circle speakers."
Her clever and often wacky themes, which range from "Corona Time, the COVID Clock" and music motifs to the Fibonacci Formula, Pi Edition, and the Binary Edition, can be enjoyed at her website SBCrafts. The knots-themed clock was a custom model, co-designed by Skona and KITP visitor Louis Kauffman. She offered it to Lou as an honorarium for his "knots" presentation to her math circle.
Another side gig is copy-editing "recreational" math books, as Skona delights in correcting grammar. Alas, the pandemic put a disappointing end to her volunteer work -- tutoring math at the Santa Barbara School of Squash, and sorting books at the Planned Parenthood Book Sale. Hopefully, these activities will resume in 2021.
Celebrated at KITP as our mathematical fashionista, Skona has a dresser stuffed with t-shirts embellished with math expressions, some of which she created herself. "I always dress to match the topic I'm teaching," she said chuckling, "as well as the subject of talks I'm attending."
And which T-shirt does she wish she'd bought? She smiled mischievously, "I'm silently correcting your grammar…"
---
Interested in nominating a featured Friend?
Email us at: friends@kitp.ucsb.edu!
---
KITP's Featured Friends
| Date Featured | Featured Friend Articles |
| --- | --- |
| March 18, 2019 | |
| May 14, 2019 | |
| September 16, 2019 | |
| March 31, 2021 | |