Could you actually laugh out loud reading a book on physics?
---
An Old Man's Toy
"How many times have you actually laughed out loud reading a book on physics?"


—The Science Teacher
An Old Man's Toy was nominated for a Pulitzer Prize in nonfiction.
Translations: China, Japan, Taiwan
Re-published by Oxford University Press as Einstein's Universe with a new afterword on brane world and cosmic microwave background. You can read sample chapters and reader's reviews on Amazon.
---
"A brash, breezy, and authoritative discussion . . . with vivid analogies . . . a fascinating book."
—W. Greenberg, Washington Post
"How many times have you actually laughed out loud reading a book on physics? If your answer is 'Never!', then you should pick up a copy of An Old Man's Toy . . . Many books on physics can be very interesting, but it is rare to find one that is actually fun to read. I thoroughly enjoy reading it and would recommend it to anyone. A. Zee has a style of writing that makes one keep turning the pages . . . [The book] is interesting, playfully written, and very readable. Don't pass it up."
—The Science Teacher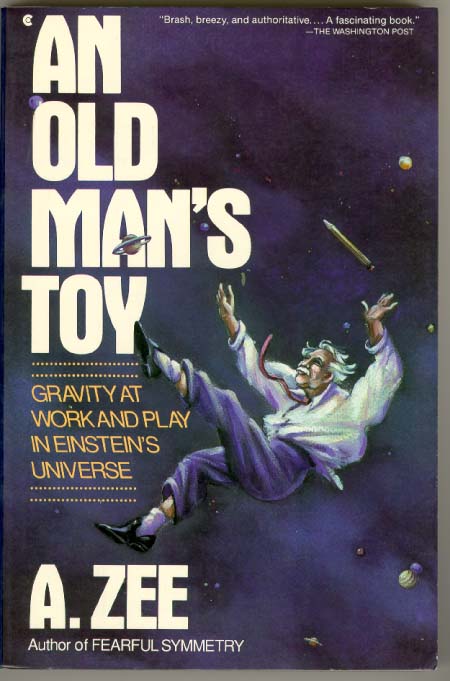 "Zee writes with wry, poetic humor . . . It's as if he is conducting an easygoing conversation with his audience . . . A scientist who can clearly evoke the imagery hidden within a mathematical equation, [Zee treats his material] with enthusiasm and delight."
—The New York Times
"An extraordinary writer: playful, inspired, and brilliant."
—Publishers Weekly
"I can't imagine a happier combination of zip, joy, clarity and absolute up-to-datedness. [This] lovely book is a beautiful creation."
—John Wheeler, distinguished physicist and professor emeritus, Princeton University
"Brilliantly constructs the universe."
—Kirkus Review
"Through his engaging, conversational style, Zee . . . succeeds in informing while entertaining the reader with his disarming stories . . . Zee's entertaining style makes a [detective] mystery out of the history of physics."
—San Francisco Chronicle
"A. Zee is that rare creature: a physicist who knows how to tell a story. (His previous book) Fearful Symmetry was ... lucid, entertaining. In this reprise, Zee is just as fascinating, and even funnier . . . with his prankish good humor and gifts for simplifying the complicated . . . An Old Man's Toy is both a delightful read and a faithful yet accessible look at an avant-garde that is far more revolutionary than any downtown's club scene . . . it is too rare an opportunity to miss."
—Life of New York
"Zee's writing is clear, straightforward and profound. He is a very good explainer."
—The Los Angeles Times
---
You can listen to An Old Man's Toy read by an actor with a beautiful voice on a tape made by the Library of Congress for their Books for the Blind program and available from your local public library.
Reviews of my other book Fearful Symmetry